Tutoring Testimonials
I can't believe this is the same Marc!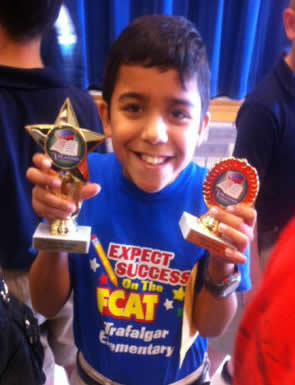 Kevin,
Just thought you should know that all of our hard work has paid off! Today was Marc's award ceremony and he received a special recognition award, the A/B honor roll for the year award, a 100-point AR trophy for reading 174 points worth of AR books, and he was 1 of 2 kids to receive the Classic Reader award! Thank you so much for working with Marc! We are so appreciative for all of hard work you have put in with him!
I can't believe this is the same Marc that had to repeat the fourth grade because of his learning disability! I'm filled with tears of joy and pride and I'm happy to share this moment with you and his teacher!
Sincerely, Thamar
Thank you for helping my daughter succeed.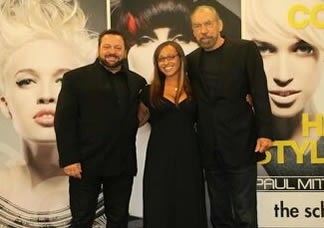 You worked very hard to help my daughter get past the GED. The minute she passed, she was signed up at Paul Mitchell and off to Tampa!
I'm proud to report that my daughter has completed the Cosmetology program at Paul Mitchell, and just last week, she passed her state boards with a 90% grade!!!!!
I will never forget the first time we walked into your office.....what a troubled kid I had on my hands! Thank you for helping my daughter succeed, Kevin. I appreciate everything you did for Erica.
Sincerely, Mary
What more could a parent want?
My son came to you near the end of third grade. He was so frustrated and unhappy in the classroom. He had trouble with his reading, missed learning his math facts, and he could no longer fake his way through school. He had hit a dead end.
Kevin, your positive, caring, one on one approach has made all the difference. You showed him what he needed to know to be successful and he really learned to value your opinion. He thinks you are by far the best teacher he has ever known, and he looks forward to seeing you each week.
You have made a huge difference in his life, and he just learned that he scored two 5's on the 5th grade F-CAT in Reading and Math. All of the hard work you have done with him has really paid off! He is thrilled with his F-CAT scores and he is looking forward to 6th grade. What more could a parent want from a tutoring center?
Thank you so much.
A very proud, appreciative parent
I see why she was Teacher of the Year!
I will continue to rave about McGinnis Educational Services. Mrs. Sue dramatically increased my third grade son's reading comprehension and also helped him master difficult multiplication facts. He was all smiles after every tutorial session and I could see it was the result of his rising self-esteem. Mrs. Sue is kind, motivational and very positive and I see why she was Teacher of the Year! I would vote her tutor of the year as well!
Christine
McGinnis Educational Services is the best investment we have ever made!
Thanks to Mrs. Sue and Mr. K, my daughter has a new love of learning.
Mrs. Sue's initial pre-testing and consultation provided me with the essential information as to my daughter's skill levels which equipped me with the appropriate documentation and knowledge to bring to the school for the IEP meeting. Those results were instrumental in getting her IEP changed into an accurate evaluation of her needs, removing many items that had been accomplished, and leaving her with the appropriate goals that allowed everyone to target the specific areas that required improvement.
Mr. K has taught her what is expected of her as a student and has shown her that her efforts will result in work that she can be proud of. Not only did her grades improve, but more importantly, her self confidence and knowledge that she does have the ability to be successful. Mr. K's direct, supportive and enthusiastic method of teaching provided her with an effective and practical understanding of her school work. While using praise and encouragement combined with fun and motivational incentives, he gave her the tools she needed to excel. The most amazing change was that Mr. K told her from the beginning that she needed to believe in herself and I am excited to say that she does now truly "believe in herself".
I highly recommend McGinnis Educational Services as they stand behind their belief that all children can be successful and, within a very short amount of time, the children they work with will shine! In the words of my daughter "they're awesome!"
Ready for the Future
Bringing my son to your tutoring center has been a very positive experience. I feel he will be well prepared for middle school due to his accomplishments at McGinnis Educational Services. Mr. K., you relate very well to my son and that enables him to be who he is and in turn, is able to learn. I look forward to his success in the upcoming school year. Thank you for your positive influence on learning, and skills as a teacher.
Initiative to Improve
After receiving the flier for McGinnis Educational Services in the mail, I spoke to Sue McGinnis because my son was failing spelling and needed help with his handwriting skills. Mrs Sue's undying energy and highly motivational teaching style gave my son the initiative he needed to succeed in, not only spelling and handwriting, but his reading improved as well. Thank you Mrs. Sue!

Ms. Leah B.
The decision paid for itself
I am pleased to recommend the McGinnis Educational Services. Last year, my son finished third grade with ITBS scores in the 25th percentile and was reading on 3.1 reading level. In school, my son partakes in the resource program which provides him support with his reading across the curriculum.
Because of the changes to common core and the focus on higher order thinking skills, I turned to the McGinnis Educational Services in August to provide my son with additional learning support in reading and test taking skills. The decision paid for itself.
This year, my son's ITBS scores are above the 50th percentile and in math approaching the 75th percentile. In addition, he is reading on a 4.5 reading level and this past quarter received second honors, all A's and B's. As my son moves to 5th grade, his goal is to improve his ITBS scores and make first honors – all A's on his report card. Thank you, McGinnis Educational Services, for all the support.
Darlene S.
Fun, Not Work
I just want to tell you what a fantastic job you have done with my son [D]. He was struggling with vocabulary in his sixth grade class.
Not only did you help him to pass his tests in English, you also helped him in science, bible, and history. He looked forward to coming to his tutoring sessions. You made it fun and not like school work. Thanks so much for all your hard work!
Cindy
My Son's Success
Thank you for the remarkable success my son is having for the first time in his life in Reading and Math. I owe this success to both of you. Ms. Sue for selecting the proper program, and Mr. Kevin for teaching it with incredible patience and kindness. Your team is unbeatable!

My son is showing great success and confidence for the first time in reading. His comprehension, spelling and even writing has improved greatly. Don't forget the public school system basically said it was hopeless. He totally proved them wrong with your incredible program. Math another area he was totally failing. Now, math is fun with full understanding of what is expected and how to approach each problem. It's becoming second nature with flash cards and story problems. He clearly understands what to do and continually surprises us with an A+.

Thank you for giving our son a "New Future" one filled with great hope and true success. Our entire family is grateful for all of your work and in believing in our son.

Sincerely,
Mrs. Mariola D.